Universal Fabric Structures always has inventory available for immediate delivery.
By renting a structure from an ISO 9001:2008 quality certified company, you can rest assured that all of our structural designs adhere to strict international engineering standards and codes. All UFS structures can be built to withstand IBC 2003 wind loads of: Exposure B, C and D force winds and other harsh conditions, as evidenced by our applications around the globe. Full turnkey solutions are available so we are the only call you need to make – We handle engineering, production, project management and customer service. Our structures can be installed quickly and offer the flexibility to adapt to nearly every need.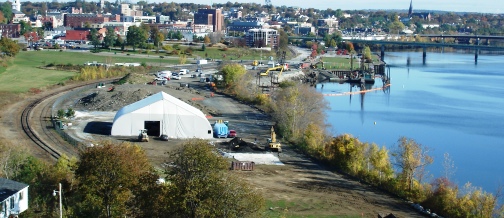 UFS Rental Inventory is Used Extensively for Environmental Enclosures
TFS/RV Series – Premium aluminum frame product line that delivers a striking appearance and adaptable, durable performance in any climate.
Benefits of the TFS Series
Width between 50′-165′
Length – Indefinite
Height between 26'4″-56'4″
No foundation requirement
Quick installation
Engineered to shed snow
Relocatable

Crane lifting packages and skid systems available

Immediate inventory available to ensure short lead times
Rent or lease to own
Below are just a few of the buildings UFS has provided as temporary rentals:
---
For additional information contact: sales@ufsinc.com