Steel Frame Structure (SFS) Series – Montana

The Universal Fabric Structures SFS Series offers the widest, unobstructed clearspan profile of any commercially available shelter. It is engineered to economically meet the demands of large width projects such as recreation, aviation, maintenance, warehousing, and event applications.
Custom Sizes are Available! Contact Us for More Details.
Montana – Profile View
– Click on the Profile View link above or the drawing below to enlarge the drawing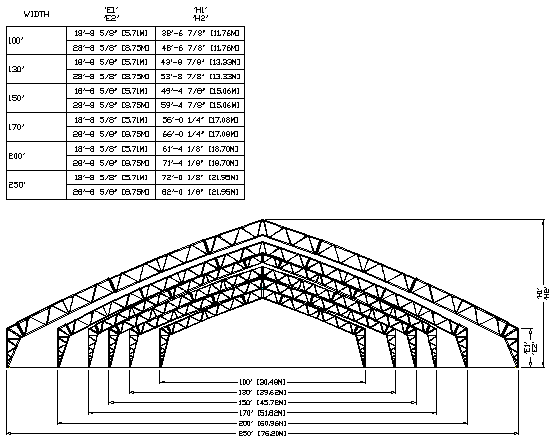 Montana – Isometric View
– Click on the Isometric View link above or the drawing below to enlarge the drawing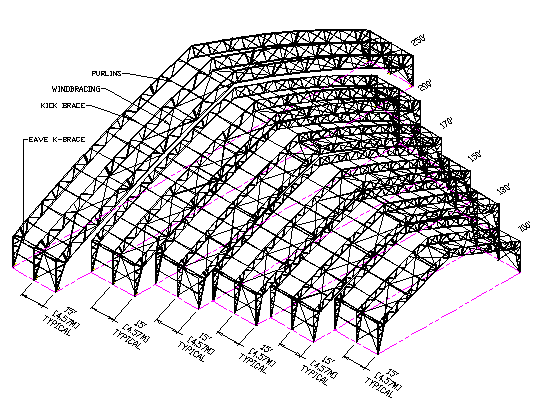 Specifications
Steel frame / Galvanized
Width – 100′ – 250′
Length – Indefinite (15′ modules)
Height –  38′ – 82′
22oz-24oz PVC-coated polyester scrim flame retardant fabric
Designed to meet or exceed local building codes for all seismic and wind load requirements
Characteristics
Modular, expandable
100% relocatable
Unobstructed clearspan space
Limited maintenance required
Flat gable ends or rounded bell ends are available
Rectangular floor plan for optimum usable space
Can be environmentally controlled in virtually any climate
Installation
No footings required for most short-term installations
Average installation rates of 5,000 square feet per day
Options
Other fabric styles and weights are available
Doors & Windows
Insulation & Acoustic Liners
Electrical & Lights
HVAC
Crane Lifting Packages Available
Solar Panels
The SFS Series is aesthetically pleasing, adaptable, easily expandable, and can be equipped with many of the same mechanical features found in standard building construction projects. In addition, it requires limited or no footings and can be environmentally controlled in any climate.