Universal Fabric Structures offers an industry-leading quality assurance program, combined with state-of-the-art computer aided design capabilities, that delivers the highest standards of excellence in product development.
Universal Fabric Structures is ISO 9001:2008 quality-certified, underlying the company's commitment to excellence in all areas of its business.
Originally certified in 2002 under ISO 9001:2000 standards, this updated certification demonstrates the organization's continued commitment to maintain the highest levels of quality and customer support. ISO 9001:2008 is an internationally recognized Quality Management System standard developed by the International Organization for Standardization (ISO). The standard was developed to confirm that companies have established and maintained a uniform quality management system to better meet the needs of their customers. The certification covers all global processes in design and development, manufacturing, installation, and servicing of products. To be certified to the standard, companies must implement a comprehensive quality management system that addresses all areas of operation.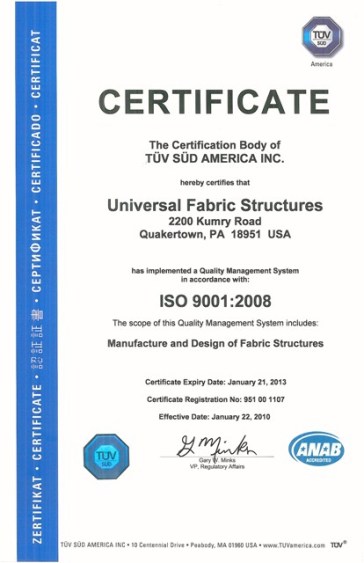 Universal Fabric Structures received the designation following audit and registration activities conducted by TUV America.