Modular Shelter System (MSS) Series

MSS 70 and 90 Data Sheets:
The Universal Fabric Structures MSS Series shelters are designed to meet the U.S. Department of Defense's demanding need for field shelters. They are rapidly deployable and can be erected in tough field conditions without special equipment.
Custom Sizes are Available! Contact Us for More Details.
MSS 55, MSS 70 and MSS 90 – Profile View
– Click on the Profile View link above or the drawing below to enlarge the drawing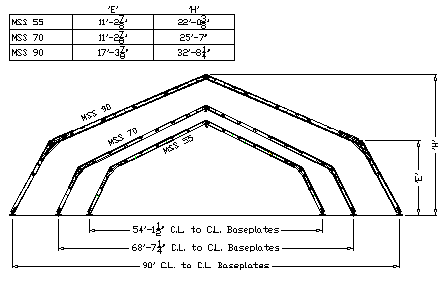 MSS 55, MSS 70 and MSS 90 – Isometric View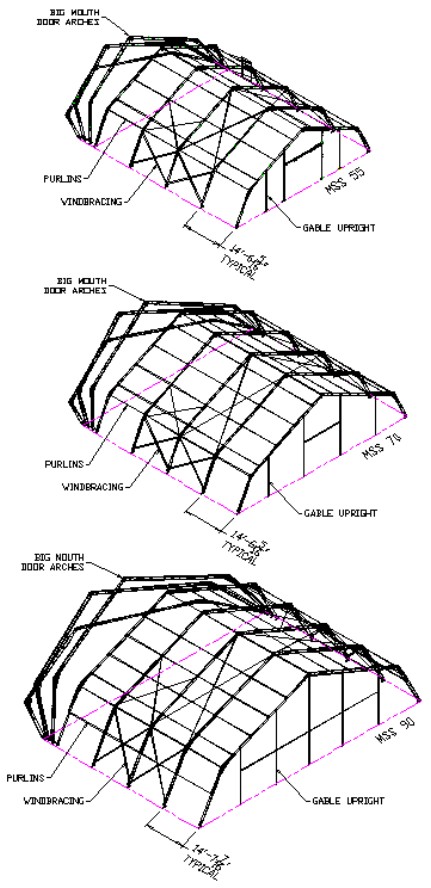 Specifications
Aluminum frame
Width – 55′, 70′ or 90′
Length – Indefinite (14.5′ modules)
Height – 22′ for 55′, 25′ for 70′ and 32′ for 90′
24-oz/yd2 PVC-coated polyester scrim flame retardant fabric
Designed to meet or exceed local building codes for all seismic and wind load requirements
Characteristics
Modular, expandable
100% relocatable
Unobstructed clearspan space
Limited maintenance required
Flat gable ends or retractable big mouth ends are available
Snow shedding capabilities
Can be environmentally controlled in virtually any climate
Installation
Includes complete instruction and information manual
Can be installed by 6 untrained workers in less than 24 hours
No additional special equipment required
Installs in considerably less time when light equipment is available
Minimum amount of nuts and bolts
Options
Other fabric styles and weights are available
Doors & Windows
Insulation & Acoustic Liners
Electrical & Lights
HVAC
Solar Panels
The MSS Series uses lightweight aluminum and is designed in short sections to ensure fast and easy set-up. It requires no foundation and is versatile enough to accommodate various size aircraft, helicopters, and vehicles. In addition, the shelter's PVC-coated polyester tensioned fabric is rugged and built to withstand the most extreme weather conditions.
The shelter comes standard with two personnel doors, installation tools, and a complete electrical system. It can be quickly and easily assembled by 6 untrained workers in less than 24 hours.
MSS 70 and 90 Data Sheets: MSS 90 Arch View with Clearances:


For an overview of the MSS product, click on this link to download the MSS Series brochure.