So you think want to use an air structure or sports bubble as a clearspan cover for your outdoor pool or practice field to create a seasonal or year round climate controlled environment?  Before committing to an air structure, please take a few moments to learn about the advantages and disadvantages of this technology.

Typical Air Structure:  Example of an air structure used to cover a practice field.
One of the primary reasons for choosing an air structure over a frame supported fabric structure, or even traditional construction, is the comparably lower purchase price.
Air Structure:  $5 – $10 per square foot
Fabric Structure: $10 – $50 per square foot
Traditional Construction:  $40 – $200 per square foot
The range for price per square foot for air structures is narrow due to the lack of customization available. Fabric structures and traditional construction can be customized on many levels with interior and exterior finishes, lighting, fire suppression systems, and ventilation being just a few.
Typically air structures are used on a seasonal basis and are inflated and deflated many times over their lives, and are used to provide a comfortable environment during the winter. The average serviceable life of an air structure is 8 to 10 years, although permanently inflated structures can last up to 20 years.
Before you start dialing to find out where you can get one, there's something you should know.
Air Structures are very expensive to maintain.
What's to maintain?  The short answer is that the air structure must be continually inflated using air pumps and compressors, thereby using significant electricity.
Air structures are at a distinct disadvantage to both fabric structures and traditional construction when the maintenance costs and downtime expenses over the life of the structure are considered.
In fact, if you plan to keep the air structure permanently inflated, in about 7 years you will have paid for a fabric structure, which requires no inflation.  After that time, if you owned a fabric structure, the only utilities you'll need are light and heat.
In contrast, utility costs are high for the entire life of the air structure, and often cause the continued use to become cost prohibitive.
Just a few things to consider before making that call.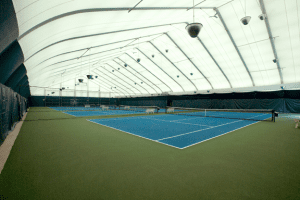 Interior View of a Fabric Structure:  Photo of a fabric structure covering tennis courts.