The need for a temporary building can arise for a myriad of reasons and a seemingly endless number of applications.  In response to these needs, there are many sizes and shapes of temporary buildings.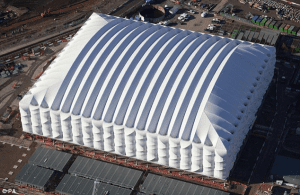 London 2012 Olympic Basketball Stadium: A temporary structure that will be dismantled and purposed after the games conclude.
Multiple alternatives for small buildings such as offices or homes, or even a medium sized structure like a school or festival shelter are readily available.  However, what if the need is for a large structure for temporary or short term use such as:
Swimming pool enclosure
Aircraft hangar
Hazardous waste enclosure
Indoor practice field
Seasonal Storage
Not only is it difficult to identify a cost effective solution for such a large and short term temporary application, the process is often complicated by the need for "clear span" space.  Clear span can be defined as a span or distance inside a structure that does not require the use of support beams.  A support pole in the center of the local Wal-Mart is completely acceptable, but if placed the center of a football practice field or tennis court, it might raise a few eyebrows.
This is where the beauty of a fabric structure comes into focus.  Fabric structures are just as their name indicates, a structure made of fabric.  Or more specifically, a steel truss or aluminum beam structure clad with heavy duty "fabric."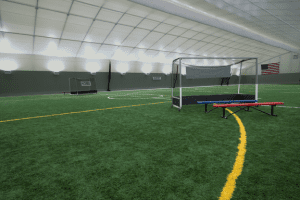 Pinelands Sports Complex: Indoor multisport field is covered using a fabric structure.
This type of fabric is not something available at the local yard goods store, but rather sophisticated, engineered fabric.  The specialty manufacturer typically begins with a polyester "scrim" or base fabric, and coats it with polymer compounds for durability, pleasing appearance, and maintenance free care.
Because the cladding is light weight, durable, and long lasting, the underlying structural elements can span greater distances unsupported, while the engineered fabric keeps out the elements.  Fabric structures can reach clear span widths as wide as 300 feet, and can be made infinitely long.
What's more is that depending on the intended use, site preparation, foundation, and local building codes, the fabric cladding could go maintenance free for 5 years, and last up to 20 years before the structure would need to be recovered or "reskinned."   The frame is generally guaranteed for a minimum of 25 years, and has been known to last at least twice as long without repair.
Additionally, fabric structures are generally about one quarter the cost, have a dramatically sorter lead time, and install in a fraction of the time of traditional (brick and mortar) construction.  They are reusable, relocatable, fully recyclable, and can be insulated, lighted, and environmentally controlled for the comfort of the occupants.
If a need for a temporary structure, seasonal cover, or large indoor open space should arise, consider the benefits of selecting a fabric structure.  It could be the perfect solution that provides the shelter that's needed in a short time frame, and at a fraction of the cost.